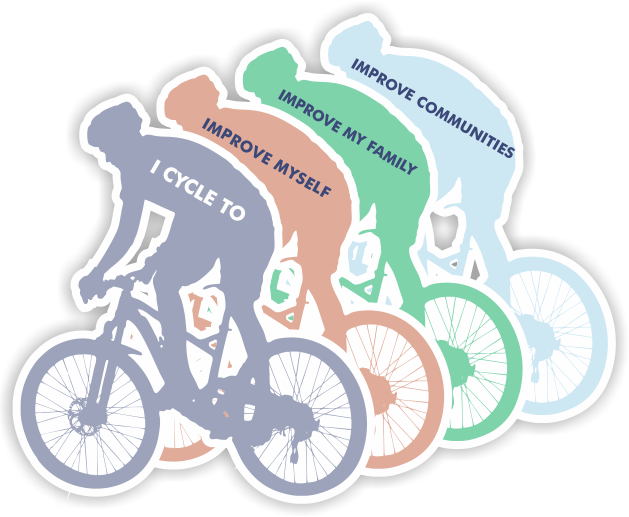 C2R
Community
Cycle
Centre
PURPOSEFUL
Cycle2Ride (
C2R
) creates opportunity for individuals to engage in cycling activity, with a purpose, namely;
to learn to cycle or improve to compete in cycling (Sport)
to adopt a cycling lifestyle as part of recreational activity for the family (Recreational)
Introduce and develop cycling competition, lifestyle and commerce in communities where it currently does not exist, to create

Hope

and

Purpose

.
Cycle Centres
- Impact and contribution to the Community
Methodology to develop skills in Communities
C2R CYCLE CENTRES
is a social investment initiative, where we use funding to establish a small facility, which is equipped to train technicians, coaches and shop owners, while delivering a service to the cycling community. Centres are conveniently located at a CURRO school, with a skills track, able to host local and regional inter-CURRO mountain biking events.
The centre will provide free introduction to cycling and learn to cycle courses to the community. Open days will market the Technician training courses and Pro-cyclists like the Exxarro training Academy riders will be invited to host motivational talks to the children of the community.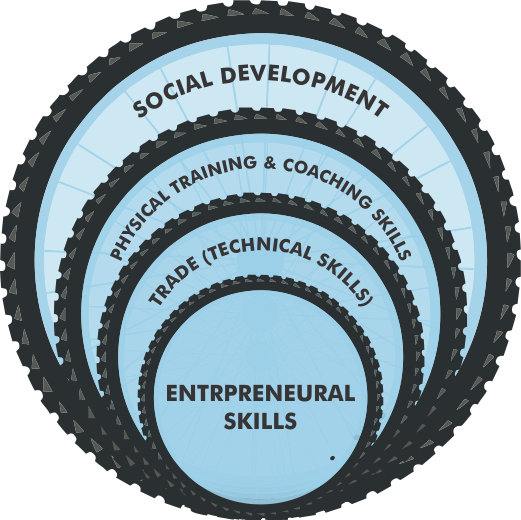 Smartcycle
facility provides online smart trainers where the youth of the community can experience cycling in other countries and cycle iconic routes like the Tour de France. Cycling against other cyclists from all over the Globe. The purpose of which, is to increase their scope and self believe and add
Hope
and
Purpose
to their lives.
C2R
partnered with specialist coaches, cycling event organizers and an industry training service provider, to provide our trainees with quality support.
In Communities with cycling development potential, we introduce specialist and create infrastructure, like skills tracks and cycle centres to provide skills development initiatives namely;
Professional cycling,
Technician training (UK developed, globally recognized and SAQA accredited course), and
Entrepreneurship.
Successful trainees are deployed in the value chain to service the needs of the

C2R

athletes, for example;
Coaching Assistants at Coaching sessions
Bicycle technicians available at events for

C2R

cyclists support

Cycle Centre

owners, providing bicycle shop services to the community
Professional athletes, pursuing a career in cycling
(Note: Refer to diagram of value chain below)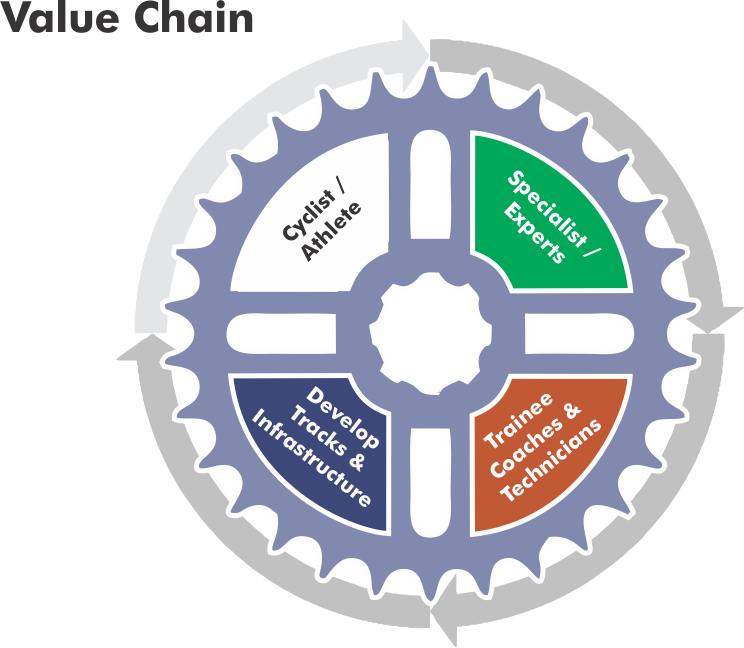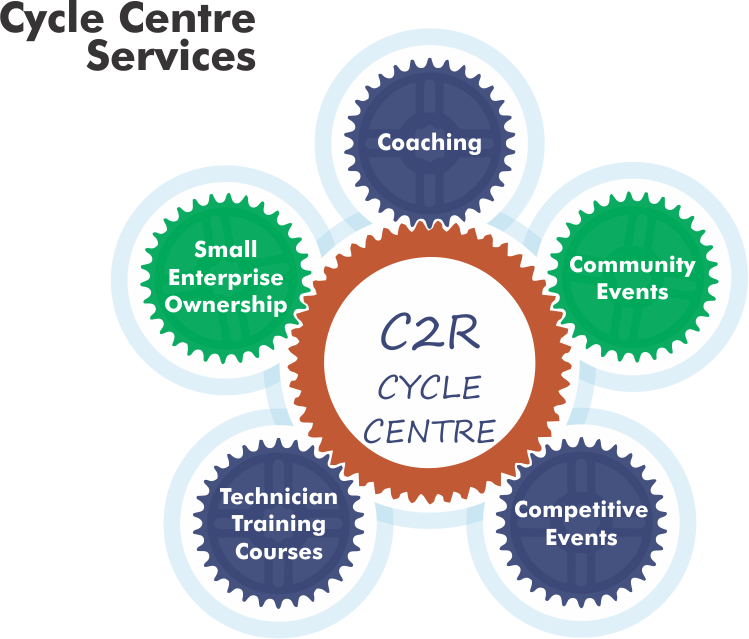 C2R Cycle Centres
provide an anchor for the development of skills, contributing to education and development of life skills.
Cycle Centre
- Locations
Curro operates on more than 60 Campuses located in South Africa, Namibia and Botswana. The initial facilities earmarked for development in 2020 / 2021 will include:
Protea Glen – Soweto (Gauteng)
Mamelodi (Tshwane)
Hazeldean (Tshwane)4
The Blyde (Tshwane)
Soshanguve (Tshwane)
Wilgeheuwel (Gauteng)
Savannah City (Gauteng)
Thatchfield (Tshwane)
Delft (Western Cape)
Brackenfell (Western Cape)
A Further 42 Sites are earmarked for future development, making this network of cycle facilities, the largest of its kind in South Africa.
Cycle Centre
Business Model
Curro contribution

Curro sets land aside on existing school grounds, for the development of a cycling track.
Curro will maintain the condition of the track.
Curro finance the design and construction of the track. Curro is supported by management of the Spur Schools League initiative for insights in the track development.
Curro provides after hours security and protection of property
Curro provides insurance for buildings (excluding movable assets)
Curro provides services (Internet, Electricity, Water) to the facility
Curro has the construction expertise to facilitate the construction of the facility.
Funding Partners will be acknowledged in Curro national promotion and awareness campaigns to Curro parents.




C2R

contribution

Oversight on the development of the infrastructure (Track, Buildings and Fit-out)
Oversight on the operations including;

Appointment of Centre Owner/Manager
Establishment of Technician Training Courses (Torque Zone)
Co-ordinate cycling events
Implement Coaching programmes

Financial reporting and management of funding cash flow.



Funding Partner contribution

Funding of;

Container structure (Buildings) supply and construction
Equipment / Tools required for training and bike shop
15 Mountain Bicycles to be used for coaching, technical training and Rentals
Seed capital to finance operational cost for shop for 1 year.



Responsibilities of Centre owner includes

Payment of;

Monthly utilities, including refuse, sewerage, water and electrical supply
Additional staff resources
Maintenance and cleaning of building
Maintenance of equipment



Revenue Model for Owner

Revenue will be generated with the following services;

Membership Fees
Coaching
Bike Wash
Technical servicing and repairs on Bicycles
Rental income for non Curro events (Spur Schools League)
Rental income from Bicycles
Rental income from tuck shop / Barista tenant
Cycle Centre
- Facilities
Facilities include:
Cycling Workshop
Bicycle Wash bay
Bistro / Coffee Shop / Tuck shop (Online Retail facility)
Ablutions
Bicycle Storage
Smartcycle online training centre
Cycling Track / Trail
WIFI